BYTE's flexible, feature rich inventory control system gives you complete control over your resources from raw materials inventory, to maintaining perpetual inventory for both open and cased finished goods, to customer order processing and shipping.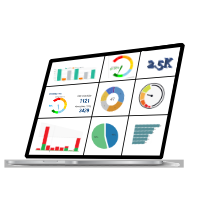 Benefits
Smoothes production flow by ensuring in-stock status for scheduled production and generates time-phased inventory position based on current production schedule.
Closes month-end inventory by simply running the Inventory Valuation Report.
Cycles checks and inventory aging to help prevent dead or missing inventory.
Provides options for inventory valuation, including first in/first out (FIFO), last in/first out (LIFO), standard cost and weighted average.
Reduces admin expenses by automating purchase order management and inventory and raw material inventory control and purchasing.
Eliminates shade variations within cuts and locates any roll or trim item.
Quickly displays material requirements for an order.
Completes physical counts quickly and accurately.
Automates customer orders into production orders.
Auto substitutes styles and colors for size, customer or plant sensitive items.
Links the efforts of purchasing and production planning weekly.
Monitors fabric/trim utilization.
Fine-tunes costing and cost accounting.